Facilities & Prices
Main Room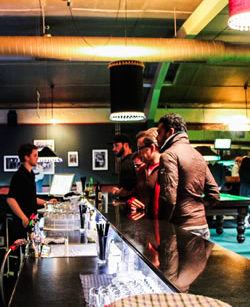 We have 31 tables suitable for Pool, Snooker, or Billiards
Standard (9′ x 4.5′) green tables – $14 per hour
Challenge (7′ x 3.5′) blue tables – $2 per game
Daytime special: $9 per person from 11:30am until 6:00pm
Victory Room
The Victory Room is a private area which includes:
5 standard (9′ x 4.5′) green tables
2 dart boards
Lounge seating
$195 flat rate
Bar and food
Alcoholic and non-alcoholic drinks are served all opening hours, along with a range of bar snacks.
Catering options are available including pizza – with food delivered to our premises. Just ask our staff when you make your booking.
Bookings
The Victory Room can be booked exclusively for your corporate or social event, or used casually if it's available.
You can also book any tables you need in the main area.
Talk to us about your requirements or to find out more on what we offer…
Phone: 801 7994 | Email: theballroom@xtra.co.nz | 68 Courtenay Place, Wellington